Welcome To The Home Of The Pewter Donkey
If you see something here you don't like ... you can kiss my shiny metal ... Donkey!!! There are millions of other web pages and you can go to one of them. Heck some of them will probably let you complain about this one.


OK, so Tara has yet to come through with a link. Well I will hound her again. Maybe this quilt trip will work. So this weeks Tara link is to American Wedding. She told me I had to go see it. And she was so right.


Yahoo! Messenger
AIM

LastDayFighter
Slashdot.org
spector30
E-mail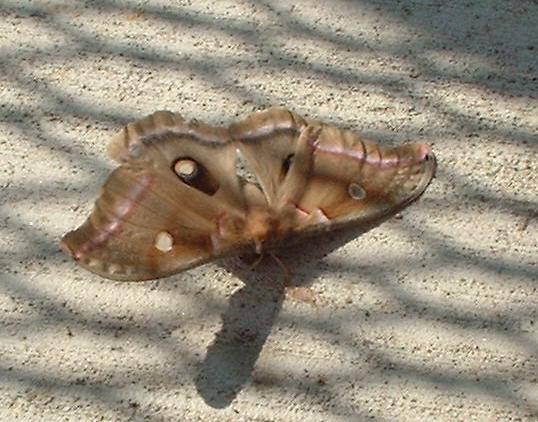 There used to be nothing here to see, now there is. So there! This moth attacked me last night while I was out on the porch in the dark. This morning I found it underneath the hammock. It's wingspan was approximately 6 inches. This thing was huge. Go Mothra!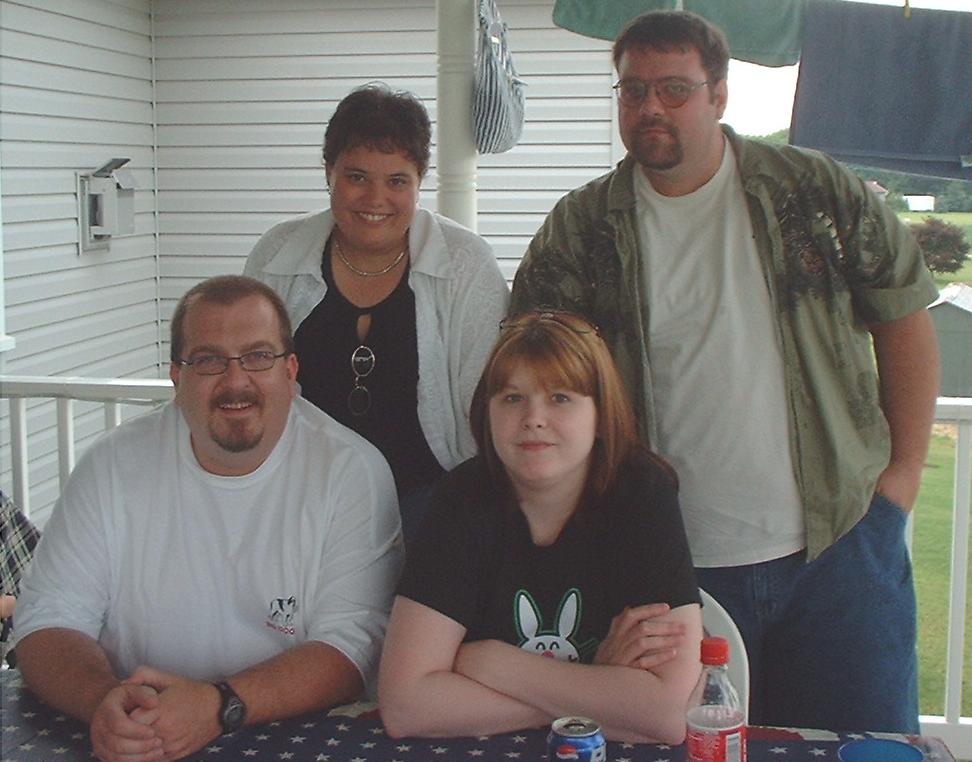 This is, from left to right, me, Michelle, Steph, and Nathan. We were sitting on the back porch waiting for some of that great home-cooked Pennsylvania Dutch food. We were starving. Steph was lucky to get away with her arm intact.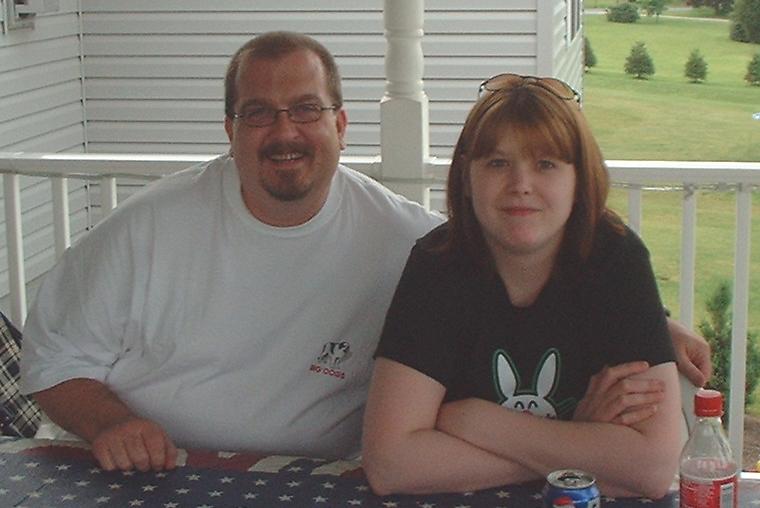 Here's me and Steph. This is the picture to prove that she looks like Alyson Hannigan. Really she does. And she even sounds like her a little bit. WOO HOO! Now where is that leather outfit I got off of E-Bay?

To see the full-sized picture right-click on it and select view picture (or something similar depending on your browser).






The above links are in no particular order. They just got pasted up there like that. If you think something belongs higher up in the list. Make your own web page!


02 August 2003
Weasing The Juice


It seems like it has been a VERY long time since I last visited these pages. And it has. So there is a lot to tell.

I worked the last two weeks at the Milton Hershey School. It was nothing major, just a technology refresh project. Lots of eMacs and PCs getting loaded and reloaded with Mac OS 9.2 and Windows XP. I have to say that I really enjoyed it there. Barry, Simon, Jeff and I were definitely having more fun than should be allowed. We became enamored of a certain mp3 about Chickadee China. For those that don't know what this is all about type the follwing into Google: chinese chicken mp3. Look for a link nutty something or other. I am not linking to it here because I don't want the RIAA breathing down my neck. So there!

Another big joke at the site was about Encino Man. "No veezing the jewce!" So of course I had to go and pick the movie up yesterday. I don't believe I ever watched the whole thing in one sitting before. It was pretty good for a cheap flick. You can pick it up at Wal-Mart for $5.88.

I finally found a wireless NIC for the latop Brian gave me. The one I had was a 32-bit Cardbus card and will not fit in the old IBM Thinkpad. The one I ordered from Tiger Direct is a Proxim and should work just fine. I will let you all know how it works once it arrives, which should be in about a week or so since I only paid for UPS Ground shipping.

The job market sucks. I have a few leads, but nothing solid at this point. I will hopefully find something permanent soon. This working a few days here and there is killing me slowly.

Today I went and saw American Wedding. If you have even an ounce of humor in you this movie is a must see. I'm not sure it has made the top ten list yet, but it has to be close. I am planning on seeing it again in the next few days so watch the Watch page closely.

Kevin sent me an interesting picture this week. The title on the e-mail had to do with why we're not taking the kids to the zoo this summer. It was two orangutans in a compromising position. For those that would like to see my modification please send me an e-mail and I will forward it along. Before seeing the modification I highly recommend checking out Encino Man.

Speaking of Kevin he has a girlfriend. WOO HOO! It's about time. Apparently she thought it was funny that I attend computer users group meetings and asked him whether or not I had been to one of my "Dorkman" meetings. Well yes I had. So be it. :-P

Well, not much more to put up here for now. I'm sure as soon as I post this I will think of something, but it will have to wait until another day. Hopefully tomorrow.

-spector30

P.S. - Muhna Muhna!!!

9 July 2003

Welcome back folks. Sorry for the long delay in updating the site. Real life has intruded on me yet again. So much to tell so little time. Are we there yet?

The visit with my family went well. Tracey, Brian, and the kids all arrived home safely. There was even evidence that it was fun for the kids. Go figure. Are we there yet?

I have been spending an inordinate amount of time looking for work. The job prospects here are not that great right now, so hopefully something will come along soon. I do have two weeks work lined up starting next Monday so expect short and sweet updates during that period. Are we there yet?

I also had an interview yesterday that went very well. I should hear more about that on Friday. If not I will definitely know more by Monday or Tuesday of next week. As soon as I know for sure I will post here what I will actually be doing. Are we there yet?

I finally managed to pick up a copy of Stephen Lynch's superb debut CD,

A Little Bit Special

. Check out the sidebar for more information on that. It was in a little store up near Park City Mall called Coconuts. I have never seen another one in all my travels, but apparently they are out there. Are we there yet?

OK, ok, we're there. At the end of another wonderful and informative update to the donkey. I hope you have enjoyed it. And if you haven't you know what to do. If you don't know what to do check out the introduction above and to the left (if you miss it try your other left).

Be good ... in bed.

-spector30

BTW the AIM link is not working yet. Anyone with a clue as to why? If you do please e-mail me. Thanks!

29 June 2003
Karaoke Words
This weekend has certainly gone by quickly. It's always too short when great friends stop by to drag me out to have a little fun. Nate, Michelle, and Steph came down from Syracuse just to see little ol' me. That was really great of them.

We ended up going out to the TraveLodge on Columbia Avenue for a little karaoke. The first song that any of us sang was Eve6's

Inside Out

, sung, sort of, by Michelle. She forgot the words about 30 seconds into it and had to leave the stage because of embarassment.

Next up was me, with

King of the Road

. Before the song came on I apologized to my fifth grade music teacher, but not to the people in the bar because they paid to get in. I am told I did just fine (THANKS STEPH :-), but I felt like I did terribly. I guess I didn't do too bad. I remembered the words and didn't cough or choke into the mic.

Next up, after much prodding and sobering up, was Michelle with Oasis'

Wonderwall

. She did a great job. Her voice was loud and clear and she remembered all the words. Or maybe not. I think her contact lenses cleared up and she could read, but either way it was well done. Right after that a couple of dancing freaks from the bar got up to sing Inside Out. One of the more adventurous guys dragged Michelle up to sing with them so she could redeem herself. Which, of course, she did. WOO HOO!

While Michelle and I were singing Nate managed to polish off a six-pack and still walk. I am impressed. He was giggling like a little girl, but we won't mention that. (Nate, don't hate me :-)

All in all a great weekend! Thanks again to all who participated. And thanks for those who watched and listened to our rampage through Lancaster County.

-spector30


27 June 2003
Uncle Beefy

Sorry that there was no update yesterday, but life has been hectic. My sister, brother-in-law, and the kids came in today. Most of the day yesterday was spent cleaning up the house and preparing for their arrival. Along with a healthy dose of job searching.

Speaking of the job search, good things are happening. I have a one day assignment on Monday. It looks to be pretty straight forward. Install some new networking and PC equipment. Get out. I like it!

My neiece and nephew are such a trip. They refer to me as Uncle Beefy. A little strange I know but it started with a commercial I saw for Chef Boyardee Beefaroni. It has just stuck.

I will be checking with my sister about posting pictures of the kids. Not sure we want to do that. For security reasons don't you know.

I picked up a sweet deal this morning at the OfficeMax. The Altec Lansing AVS500B 4.1 Surround Speaker System. They were normally $49 and with and instant rebate they were only $29. The sound is more than acceptable for a cheap set of speakers. They even have separate volume controls for the front and surround speakers, and subwoofer. How could I go wrong?

By the way, the updates to the site for the next couple of weeks could be a little sporadic. Life being what it is a guy has to survive and working is part of that. No one seems to want to pay me to sit around and do nothing so I work instead.

Have a great weekend everyone. Be safe, be sound, and most of all break wind whenever necessary.

-spector30


25 June 2003
Mothra Invades Our Home

This morning was rather eventful. I got a call, which actually woke me up, from Tek Systems about a job in July that will last two weeks. That's pretty exciting considering the recent employment outlook.

After hanging up from that call I took a stroll out on the back porch and found a huge moth out there. I actually managed to snap two pictures with the digital camera from within a few inches of the nasty looking beast. One of them is on the left sidebar. There is also a link to an actual scientific explanation of what this moth is and all that good stuff. I hope you enjoy a little learning with your fluff.

This evening I attended my first meeting of LMUG (Lancaster Microcomputer Users Group) at Brethren Village, a community for senior citizens. They actually let us use the facility there for free. That is very generous of them. I had a good time and now am a member since tonight.

I will be removing approximately a week's worth of the journal from the bottom of the page this evening. It is not going away permanently. Once I get the archive system up and running it will all return. Sorry for any inconvenience this will cause both of you that are looking at this site on any regular basis.

Have a great Thursday!

-spector30


24 June 2003
Buffy r0x0rs

This is a rather special update. For once someone is going to actually have to help me with the site. After viewing the Watch section Tara gave me a hard time about not including a link to Buffy the Vampire Slayer. Not the movie, the series from UPN. Well to alleviate her issue with the missing link, which sounds kind of like some of the girls I have dated, but I digress, I am putting up a special Tara button. By clicking this button you will be taken to her Buffy Of The Week Web Site. I hope she likes it. It really is meant to be a cool thing. So if she takes it the wrong way I will just have to mail her a big Pennsylvania Corn Pone Wedgie.

Enjoy!

-spector30


23 June 2003
Updates A-plenty
The Watch section is finally up. The other sections will just have to wait for another day. This time it isn't Wil Wheaton's fault. Blame it on Harry P.

By the way the AOL Instant Messenger is not working. I am still trying to figure this one out. If someone out there knows where I went wrong please let me know. Thanks.

Enjoy!

-spector30

22 June 2003
Cleaning, dishes, and laundry. Oh My! What an exciting Sunday. It had to be done. My parents are coming home tomorrow and I wanted to get it out of the way today so I don't have to get up too early in the morning.

The updates to the web site are still in process. Sorry for the delay, but there has been much going on here. The book called to me today. No, not my book, the new Harry Potter And The Order Of The Phoenix. I managed to get through a little over a hundred pages so far. I am pleased. It isn't difficult reading, but the level of language has gotten more complex as Harry has aged and the story appears to be more intriguing as well. I'll be sure to let you know what I think when I finish it.

I also had to get some information together so I can fill out an online application for a Help Desk job I found in the paper today. It's for a company that my Uncle Dave just retired from so I may have a foot in the door there. It is full-time and permanent with full benefits so I am keeping my fingers crossed.

If you check back in the morning the Watch section will be up. I just fine-tuning the layout a little bit. Enjoy!

-spector30

P.S. - If you want to know about the Mr Clean story e-mail me

21 June 2003
Today has been another busy day. I ran around a bunch picking up movies and checking out computer desks. I did find one I like, but it wouldn't fit in my little car. Besides I don't really need to spend the money right now. It will just have to wait to come home with me.

The updates to the web site are still under construction. I can't wait for you to see it. I hope you like it.

Well, much to be done. Be back soon.

-spector30


20 June 2003

Tonight has been very interesting. I spent a couple hours on the phone with Tara watching Office Space. We even managed to get the audio to sync. If you haven't seen Office Space yet, where the heck have you been? Under a rock? Abducted by aliens? It better be something good because this movie is one of my top ten movies of all time, which you will be able to see as soon as I get the Watch page up and running.

The rest of the day was spent looking for work, rearranging the furniture in my room, and making dinner. I am in so much pain from moving the furniture around. Everything aches. I should have known better and asked for help, but I got a wild hair and went for it.

The room does look nice and I now have room for the TV in there. I just need a stand to put it on and I am good to go. Add a dorm fridge, a microwave and a bedpan and I don't ever need to leave. OK, well maybe to get food or interview, but not for anything else.

I have been collecting links for the other sections of the web site the last couple of days. Most of the larger sites I have been to have link images or at least something that is easy to link to. Others, like Joe Cartoon don't seem to have anything remoting like a decent link section. If I am missing something there could someone please let me know. How can I possibly fill out my humor section without a link to one of the funniest sites on the entire Internet.

Well, this update is a bit late and I have to get up early so that's all you're getting for now.

-spector30


19 June 2003
Oreo's Good

Belive it or don't I actually worked today. For an hour and a half. But at least I was guaranteed 4 hours for the job so that works out. It was a very simple hardware upgrade/installation. It went so smooth it was like butter. The butt-set issue turned out to be a non-issue since the butt-set did not show up to the site I was working on.

On to the BIG NEWS of the week. I have begun work on a book. Not a novel this time, a non-fiction title. It is very exciting to me at this point, although I am sure there will be some issues as I get along further with the project. I can deal with that as long as all of you can put up with my moodiness. (I knew you could!) I will reveal more as the book progresses, but for now suffice it to say it is computer-related.

I have been very good about my journal these last few weeks. I have written in it almost every day. Hey, I can take a day off if I feel like it as long as I get back to it the next day. It's like being on a diet and chowing down some Oreo's. It's okay to do so as long as they don't become a staple part of your diet again. Dang I could really go for some right now!

I promised Tara I would mention a little incident that occured shortly after she and I met. I met her at her apartment and brought flowers with me. Since she didn't have a vase for them we had to make a quick run to Wal-Mart. We got to the craft department and she was looking at a couple vases when one of them got knocked to the floor and shattered.

I was laughing so hard I thought I was going to wet my pants. She picked up the piece that had the price on it and was going to pay for it. I convinced her this was not her problem. They left the vase on the shelf and it was part of their cost of doing business. When she looked at the price sticker she said, and I quote, "Thank God it's only a dollar." I tease her about that to this day. WTG Tara!!!

The reason this whole thing came up in the first place is that she commented in an e-mail about how she liked the look of the site. It is shiny. And Tara loves shiny stuff. I guess that's about enough of that since I am probably in trouble for revealing her one true superhero weakness. Chrome works better than kryptonite on her.

I am working on an archive system for the journal. I know this page has become unruly. Sorry about that, but I hope you are enjoying it anyway. Once I get the journal archive in place you will be able to click on a day or week and look at it that way.

As always, stay safe. Or not. It's your choice. Darwin RULES!!!

-spector30

18 June 2003
The June 18th update has been eaten by small gremlins that have infested my hard drive. Actually a Mozilla crash occured before I could save the updates. So they are gone. As it is now too late to spend much time here I will update more tomorrow.

Before I go I do owe Eric another debt of gratitude for his information about telephone butt sets and pointing out that I forgot to post the June 17th update, which can now be found below. THANKS!!!

-spector30





Ray Bradbury wrote the very first science fiction story that I can remember reading. It was The Veldt. These kids bring a holographic room to life to kill their parents. Very good reading for 5th grade. I believe I still have the Great Books edition that it was printed in. I am not far into this book yet, but so far I am enjoying it. As far as story collections go Bradbury has them all beat. So click above and pick it up!

*NOTE: The above link is to a for-profit site. I do not get a kickback for this. I'm just a nice guy. Like O'Reilly needs my help prmoting his books.


Encino Man was picked up because of Barry at work. He is such a nut to work with. And fun too! The basic story is that two guys dig up a frozen caveman ... oh who cares. It's just supposed to be a fun little comedy. If you take this movie seriously and try to examine it you need to be examined. Probed even. No veezing the jeewce!

After Michelle's little forgetful moment with the Lyrics to their song Inside Out I just had to get their new CD. And it was a steal at $8.99.

So get your butt out of that chair and haul it over to your local music retailer. Once there go to the racks and find it. Pick it up. Carry it to the register. Check out the cute girl (or guy if that's your thing) running the register. Flirt as necessary. Pay.

Run for the car. Tear the wrapper, tape, and security tag from the CD. Play it in the car on the way home. Be sure to take the long way so you can listen to the entire thing. It's worth it.

It actually took me a couple listenings to get the full enjoyment of it. So stick in there! It's worth it.

*NOTE: The above link is to a for-profit site. I get nothing for providing this link. Not a cent. Of course I don't get any hits on this site so why should I? OK, I am getting hits on the site. So where the heck is my penny?





Linux Journal has been around a while. I have been enjoying their articles for years now. And with a mug like the Hulk on the cover what more could you ask for. The best part of this publication is the amount of information packed into a single issue.

My life with Linux would never have been the same without this magazine. It is the best Linux publication I have come across. And I don't have to get Microsoft Coasters with every issue! YEAH!

*NOTE: The above link is to a for-profit site. I get nothing for providing this link. Not a cent. Of course I don't get any hits on this site so why should I? OK, I am getting hits on the site. So where the heck is my penny?